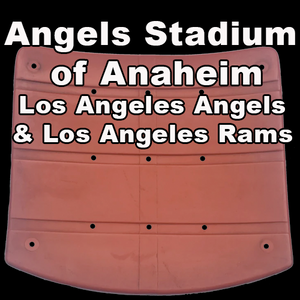 Angel Stadium of Anaheim (Los Angeles Rams)
Plastic Seat Pen Blanks!
Blanks are 3/4" x 3/4"
All blanks will come with one COA per blank. COAs are 4" x 6" card stock with foil embossed COA seal.
All blanks are cut as they are ordered.
------------------------------------------------------------
Angel Stadium of Anaheim is located in Anaheim, CA
Originally known as Anaheim Stadium and later Edison International Field of Anaheim, the stadium is a modern-style ballpark located in Anaheim, CA . Since its opening in 1966, it has served as the home ballpark of MLB's Los Angeles Angels, and was also the home stadium to NFL's Los Angeles Rams from 1980 to 1994. The stadium is often referred to by its unofficial nickname The Big A. It is the fourth-oldest active MLB stadium, behind Fenway Park, Wrigley Field, and Dodger Stadium.
This material is unconditionally guaranteed to be 100% Authentic.
---
We Also Recommend