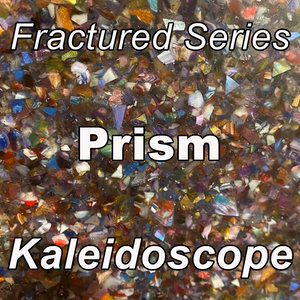 Prism Kaleidoscope
JB Royal PRISM clear resin blanks with suspended shredded resin cut-offs from the over-pour of other Alumilite and JB Royal resin blocks. The suspended material is a wild variety of mixes to form a kaleidoscope of colors.
Blank Sizes:
5" Long Blank 

measures a minimum of 3/4" square

9" Kitless Blank measures 3/4" round
2-1/2" Stopper Blank 

measures 1-1/2" round

5" Call Blank 

measures 1-1/2" round
You may find this to be opaque. We recommend back painting the blank after drilling. Using different colors for back painting will yield wildly different effects and results.
As with any suspended material blanks, there is the likely hood of tiny bubbles. These bubbles can easily be remedied with CA (cyanoacrylate) glue.
---
We Also Recommend