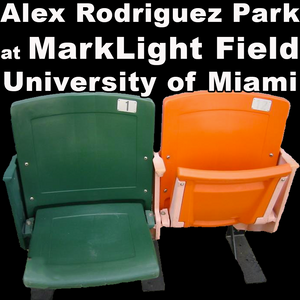 Alex Rodriguez Park at MarkLight Field (University of Miami)
Blanks are chunks of the GREEN and ORANGE seats mixed with University of Miami colored resin.
Pen Blanks are a minimum of 3/4" x 3/4" 
Bottle Stopper and Ring blanks are 1-1/2" round
Full blocks are 6" x 5.25" and a minimum of 3/4" thick
Knife Scales are 1-3/8" x 5" x 3/8" minimum

All blanks will come with one COA per blank. COAs are 4" x 6" card stock with foil embossed COA seal. (Full Blocks come with 10 COAs.)
All blanks are cut as they are ordered.
---
Alex Rodriguez Park at Mark Light Field is a baseball stadium on the University of Miami campus in Coral Gables, Florida, United States. It is the home field of the University of Miami Hurricanes baseball team. The stadium holds a capacity of 5,000 spectators. The first game was held on February 16, 1973.

Miami fan George Light donated money for the field's construction. Mark Light Field is named for George Light's son, Mark Light, who died of muscular dystrophy. Following a $3.9 million contribution by New York Yankees All-Star Alex Rodriguez, the facility was renovated in 2007-2009 and renamed.

In 2013, the Hurricanes ranked 26th among Division I baseball programs in attendance, averaging 2,635 per home game.
---
We Also Recommend