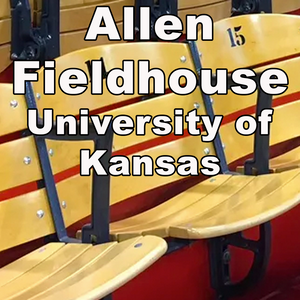 Allen Fieldhouse [SEAT] (Kansas University Jayhawks)
Wooden Stadium Seat pen blanks!
Pen Blanks are a close 3/4" x 3/4"
Ring blanks are 1-1/2" x 1-1/2"
All blanks will come with one COA per blank. COAs are 4" x 6" card stock with silver foil embossed COA seal.
All blanks are cut as they are ordered.
------------------------------------------------------------
Allen Fieldhouse is an indoor arena in the central United States, on the University of Kansas campus in Lawrence, Kansas. It is home of the Kansas Jayhawks men's and women's basketball teams. The arena is named after Dr. Forrest C. "Phog" Allen, a former player and head coach for the Jayhawks whose tenure lasted 39 years. Allen Fieldhouse is one of college basketball's most historically significant and prestigious buildings, with 37 National Collegiate Athletic Association (NCAA) Tournament games having been hosted at the center. The actual playing surface has been named the James Naismith Court, in honor of basketball's inventor, who established KU's basketball program and served as the Jayhawks' first coach from 1898 to 1907.
Allen Fieldhouse has also hosted several NCAA tournament regionals, NBA exhibition games, and occasional concerts such as The Beach Boys, Elton John, James Taylor, Sonny and Cher, Leon Russell, Alice Cooper, ZZ Top, Tina Turner, Harry Belafonte, Henry Mancini, The Doobie Brothers, Kansas, and Bob Hope, as well as speakers, including former President Bill Clinton in 2004, Senator Robert F. Kennedy (which drew over 20,000) in March 1968, and anarchist Abbie Hoffman in 1970.
ESPN The Magazine named Allen Fieldhouse the loudest college basketball arena in the country. The arena broke the Guinness World Record for loudest roar on February 13, 2017, against West Virginia at 130.4 dB. The prior record of 126.4 dB at Lexington's Rupp Arena which lasted less than three weeks also had many Kansas fans present as the Jayhawks beat the #4 Wildcats 79-73 in the Big 12/SEC Challenge.
Allen Fieldhouse is often considered one of the best home court advantages in men's college basketball. The Jayhawks have won over 70 percent of their games in Allen Fieldhouse, losing only a little over 100 games in its over 60-year history. Under current head coach Bill Self, the Jayhawks have had three home court winning streaks over 30 games and two streaks that have reached over 50 games.
---
We Also Recommend