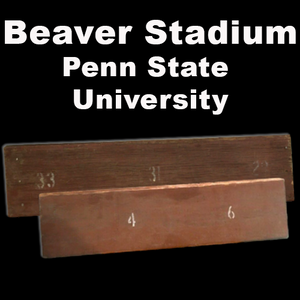 Beaver Stadium (Penn State University)
Wooden seat pen blanks!
Pen Blanks are 3/4" x 3/4"
Stopper and Call blanks:
2-1/2" Stopper blanks
5" Call blanks
Knife Scales 3/8" x 1-1/2" x 5"
All blanks will come with one COA per blank. COAs are 4" x 6" card stock with silver foil embossed COA seal.
All blanks are cut as they are ordered.
------------------------------------------------------------
All blanks are cut as they are ordered.
--
Beaver Stadium is an outdoor college football stadium in University Park, Pennsylvania, United States, on the campus of Pennsylvania State University. It has been home to the Penn State Nittany Lions of the Big Ten Conference since 1960, though some parts of the stadium date back to 1909. It was also the site of university commencements until 1984. The stadium, as well as its predecessors, is named after James A. Beaver who was a former governor of Pennsylvania (1887-91), president of the university's board of trustees, and native of nearby Millerstown, Pennsylvania.
Beaver Stadium has an official seating capacity of 106,572, making it currently the second largest stadium in the Western Hemisphere and the third largest in the world.
Beaver Stadium is widely known as one of the toughest venues for opposing teams in collegiate athletics. In 2008, Beaver Stadium was recognized as having the best student section in the country for the second consecutive year.
In 2016, Beaver Stadium was voted the number-one football stadium in college football in a USA Today poll, garnering over 41 percent of the vote. In March 2019, USA Today conducted another poll asking voters to decide the best stadium in the United States during "Bracket Madness", which coincided with the 2019 NCAA Basketball Tournament. Hundreds of thousands of fans voted for their favorites throughout the week. In the championship match-up, Beaver Stadium beat Kansas' Allen Fieldhouse to claim the title of Ultimate Stadium.
---
We Also Recommend