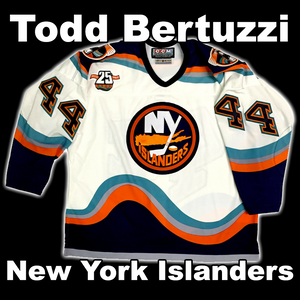 Bertuzzi, Todd #44 - Game Played Relic
These blanks are form a game used hockey stick from Todd Bertuzzi of the New York Islanders.

---
Hockey Stick blanks:

Real NHL Game Played Hockey stick. 
These blanks sold by the inch in 1" increments.
All blanks will come with one COA per blank.
COAs are 4" x 6" card stock with foil embossed COA seal.
All blanks are cut as they are ordered.
---
Hardin Penworks, LLC, certifies that material supplied to the artisan of the accompanying hand-crafted item was sourced from a 1995-1998 game used hockey stick from Todd Bertuzzi of the New York Islanders. 
Todd Bertuzzi (born February 2, 1975) is a Canadian former professional ice hockey winger of the National Hockey League (NHL). Known as a power forward, he has played in the NHL for the New York Islanders, Vancouver Canucks, Florida Panthers, Anaheim Ducks, Calgary Flames and Detroit Red Wings.
Selected 23rd overall by the New York Islanders in the 1993 NHL Entry Draft, he played at the junior level with the Guelph Storm of the Ontario Hockey League (OHL) for four seasons. In 1995–96, he played his rookie season with the Islanders. After two-and-a-half seasons with the Islanders, he was traded to the Vancouver Canucks. Bertuzzi enjoyed the most successful seasons of his career with the Canucks—his longest tenured team in the NHL—including NHL First Team All-Star honours in 2003. During the 2003–04 season, he was suspended for the Todd Bertuzzi–Steve Moore incident. In 2006, after seven-and-a-half seasons with Vancouver, Bertuzzi was dealt to the Florida Panthers, with whom he briefly played for until being traded again to the Red Wings. He then played single seasons with the Anaheim Ducks and the Calgary Flames before returning to Detroit in 2009 and finishing his career there. Internationally, Bertuzzi has competed for Team Canada at the 2006 Winter Olympics in Turin, as well as the 1998 and 2000 World Championships. He is the uncle of Tyler Bertuzzi who currently plays for the Detroit Red Wings. 
This material is guaranteed to be 100% Authentic.
---
Feel free to message us for any questions. 
facebook.com/StadiumPenBlanks/ 
Michael@StadiumPenBlanks.com
---
We Also Recommend