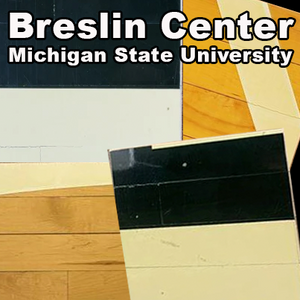 Breslin Center (Michigan State University)
Spartans Basketball floor

Pen Blanks are a minimum of 3/4" x 3/4" 
Bottle Stopper and Ring blanks are 1/2" x 1-1/4" square 
Knife Scales are 1-3/8" x 5" x 3/8" minimum

All blanks will come with one COA per blank. COAs are 4" x 6" card stock with foil embossed COA seal. 
All blanks are cut as they are ordered.
---
Hardin Penworks, LLC, certifies that material supplied to the artisan of the accompanying hand-crafted item was sourced from the wood flooring of Breslin Center.

This court was originally part of the RCA Dome in Indianapolis, IN, for the 2000 NCAA Men's Basketball national semifinals and championship games. On this floor, Michigan State University Spartans won the national title on April 3, 2000, with a final score of Michigan State 89, Florida 76. After the 2000 championship, Michigan State University purchased the court. It was refinished and installed in the Breslin Center, where it was the home court of both the men's and the women's basketball teams from 2000 to 2016. Following the 2015-2016 season, the court was replaced.

This wood is guaranteed to be 100% Authentic.
---
We Also Recommend