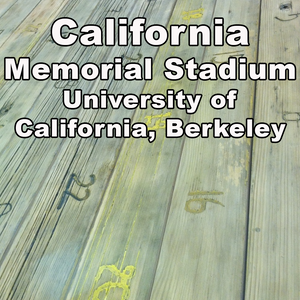 California Memorial Stadium (University of California, Berkeley)
Blanks are from original wooden bleachers of California Memorial Stadium.
Pen Blanks are a minimum of 3/4" x 3/4" 
Bottle Stopper and Ring blanks are 1-1/2" square
Knife Scales are 1-3/8" x 5" x 3/8" minimum

All blanks will come with one COA per blank. COAs are 4" x 6" card stock with foil embossed COA seal. (Full Blocks come with 10 COAs.)
All blanks are cut as they are ordered.
_____________________________________________________________________________________________
California Memorial Stadium is an outdoor football stadium on the campus of the University of California, Berkeley in Berkeley, California. Commonly known as Memorial Stadium, it is the home field for the University of California Golden Bears of the Pac-12 Conference. The venue opened in 1923 and currently seats around 63,000 fans for football. The playing field runs NW-SE, at an elevation of 410 feet (125 m) above sea level. It has been named one of the top college football stadiums by various publications, and it was listed on the U.S. National Register of Historic Places on November 27, 2006.

Memorial Stadium was funded from public contributions, as a memorial to Californians who lost their lives in World War I (1917–18). The chair of the architectural committee was John Galen Howard, the university's chief architect, and his influence is evident in the stadium's neoclassical motif. In addition to its unique architecture, the stadium's position at the foot of the Berkeley hills provides top row spectators with panoramic views of San Francisco Bay and west side viewers with views of the Berkeley Hills and Strawberry Canyon. This has earned it a reputation as one of the most scenic venues in college football.

Traditionally, during all football games and especially during the Big Game against Stanford, the hill overlooking the eastern side of Memorial Stadium attracts spectators hoping to watch a game for free, earning the nickname "Tightwad Hill".
---
We Also Recommend