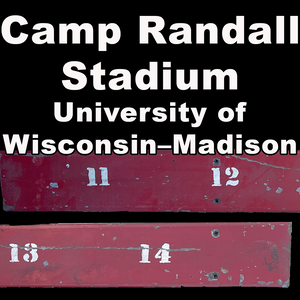 Camp Randall Stadium (University of Wisconsin–Madison)
Wooden basketball court flooring pen blanks!
Pen Blanks are a close 3/4" x 3/4"
Ring blanks are 1-1/2" x 1-1/2"
All blanks will come with one COA per blank. COAs are 4" x 6" card stock with silver foil embossed COA seal.
All blanks are cut as they are ordered.
_____________________________________________________________________________________________
Hardin Penworks, LLC, certifies that material supplied to the artisan of the accompanying hand-crafted item was sourced from old wooden bleachers of Camp Randall Stadium in Madison, WI.

Located on the campus of the University of Wisconsin, it has been the home of the Wisconsin Badgers football team in rudimentary form since 1895, and as a fully functioning stadium since 1917. The stadium is the oldest and fifth largest stadium in the Big Ten Conference.

The stadium lies on the grounds of Camp Randall, a Union Army training camp during the Civil War. The camp was named after then Governor Alexander Randall, who later became Postmaster General of the United States.

After an outcry from veterans over plans to turn the site into building lots, the state bought it in 1893 and presented it to the university. Soon afterward, it was pressed into service as an athletic ground. It was originally used by the track and field team before the football and baseball teams moved there in 1895.

This material is guaranteed to be 100% Authentic.

---
We Also Recommend