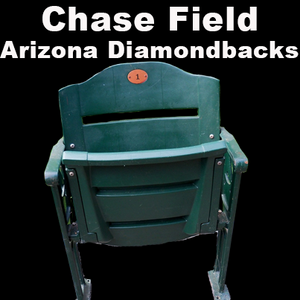 Chase Field (Arizona Diamondbacks)
Blanks are chunks of the GREEN seats mixed with Arizona Diamondbacks team colored resin.
Pen Blanks are a minimum of 3/4" x 3/4" 
Bottle Stopper and Ring blanks are 1-1/2" round
Full blocks are 6" x 5.25" and a minimum of 3/4" thick
Knife Scales are 1-3/8" x 5" x 3/8" minimum

All blanks will come with one COA per blank. COAs are 4" x 6" card stock with foil embossed COA seal. (Full Blocks come with 10 COAs.)
All blanks are cut as they are ordered.
---
Chase Field, formerly Bank One Ballpark, is a retractable roof stadium in Downtown Phoenix, Arizona. It is the home of Major League Baseball's Arizona Diamondbacks. It opened in 1998, the year the Diamondbacks debuted as an expansion team. Chase Field was the first stadium built in the United States with a retractable roof over a natural-grass playing surface.
---
We Also Recommend