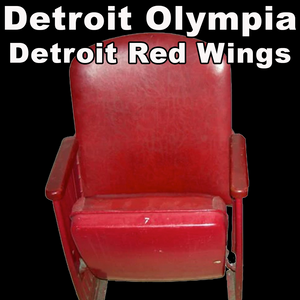 Detroit Olympia (Detroit Red Wings & Detroit Pistons)
Plywood Stadium Seat Backer Board 

Backer boards are 1/2" thick. They are cut into 3/4" strips and two strips are glued together to make blanks that are a minimum of 3/4" x 3/4" square.
All blanks will come with one COA per blank. COAs are 4" x 6" card stock with foil embossed COA seal. 
All blanks are cut as they are ordered.
---
Hardin Penworks, LLC, certifies that material supplied to the artisan of the accompanying hand-crafted item was sourced from the stadium seats of Detroit Olympia, was a multi-purpose arena in Detroit, MI.
Detroit Olympia, also known as Olympia Stadium and nicknamed "The Old Red Barn", was best known as the home of the Detroit Red Wings of the National Hockey League from its opening in 1927 to 1979. The stadium was also home to the NBA Detroit Pistons from 1957 to 1961.
The Olympia opened on October 15, 1927, and the primary tenants of the building, the NHL Detroit Cougars, began their long residence. The Cougars played their first game at the Olympia on November 22, 1927, and the visiting Ottawa Senators defeated the Cougars, 2–1. The Cougars later became the Falcons and finally, in 1932, were named the Detroit Red Wings by new owner James E. Norris.
On December 15, 1979, the Red Wings played their final home game at the Olympia, a 4–4 tie against the Quebec Nordiques. The final event at the building took place on February 21, 1980. It was demolished in September 1987.
This material is guaranteed to be 100% Authentic.
---
We Also Recommend