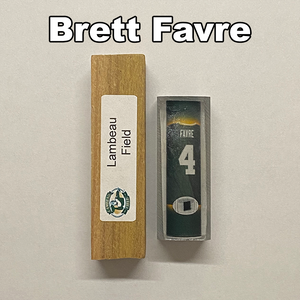 Favre, Brett #4 - Game Played Relic
These blanks are from a game used jersey relic from Brett
Favre

of the Green Bay Packers.
---
Jersey Relic blanks:

Real NFL Game Played Jersey relic. 
These blanks sold in sierra clones and Jr Sets
All blanks will come with one COA per blank.
COAs are 4" x 6" card stock with foil embossed COA seal.
Custom tube sizes available (two-three week delivery)

---
Hardin Penworks, LLC, certifies that material supplied to the artisan of the accompanying hand-crafted item was sourced from a game used jersey relic from Brett Farve of the Green Bay Packers.
This material is guaranteed to be 100% Authentic.
---
Feel free to message us for any questions. 
facebook.com/StadiumPenBlanks/ 
Michael@StadiumPenBlanks.com
---
We Also Recommend