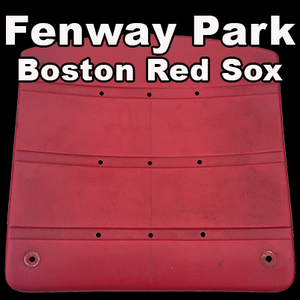 Fenway Park (Red Sox) [PLASTIC]
Plastic seat pen blanks!
Blanks are 3/4" x 3/4"
Stopper Blanks are 1-1/2" round
All blanks will come with one COA per blank. COAs are 4" x 6" card stock with silver foil embossed COA seal.
All blanks are cut as they are ordered.
---
Fenway Park is a baseball park located in Boston, Massachusetts near Kenmore Square. Since 1912, it has been the home for the Boston Red Sox, the city's American League baseball team, and since 1953, its only Major League Baseball (MLB) franchise. It is the oldest ballpark in Major League Baseball. Because of its age and constrained location in Boston's dense Fenway-Kenmore neighborhood, the park has been renovated or expanded many times, resulting in quirky heterogeneous features including "The Triangle" (below), Pesky's Pole, and the Green Monster in left field. It is the fourth-smallest among MLB ballparks by seating capacity, second-smallest by total capacity, and one of eight that cannot accommodate at least 40,000 spectators.
Fenway has hosted the World Series 11 times, with the Red Sox winning six of them and the Boston Braves winning one. Besides baseball games it has been the site of many other sporting and cultural events including professional football games for the Boston Redskins, Boston Yanks, and the Boston Patriots; concerts; soccer and hockey games (such as the 2010 NHL Winter Classic); and political and religious campaigns.
April 20, 2012 marked Fenway Park's centennial. On March 7 of that year, the park was added to the National Register of Historic Places. Former pitcher Bill Lee has called Fenway Park "a shrine". It is a pending Boston Landmark which will regulate any further changes to the park. Today, the park is considered to be one of the most well-known sports venues in the world.
The seat used for these pen blanks was removed from Right Field Section #4. The last day of service was October 8th, 2010. The MLB hologram number FJ305227 is number for the Fenway Park Blue Wooden Chair.
Loved the colors
Turned a Fenway blank last night for a cigar kit. It turned very well. The resin colors in the blank turned out super pretty! Customer is very happy.
---
We Also Recommend