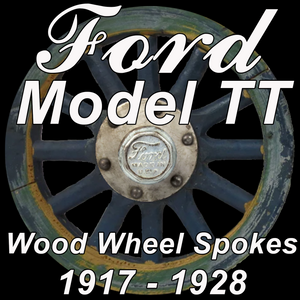 Ford Model TT (1917-1927)
Blanks are from wood spokes salvaged from original wood spoke wheels of Ford Model TT truck from 1917-1927.

Blanks are a minimum of 3/4" x 3/4"

All blanks will come with one COA per blank.

---
The Ford Model TT is a truck made by Ford. It was based on the Ford Model T, but with a longer wheelbase, and a heavier frame and rear axle, giving it a rating of 1 short ton. When the first three units were produced in 1917, the Model TT was sold as a chassis with the buyer supplying a body. The price was $600. Starting in 1924, the truck was available with a factory-produced body. By 1926 the price had dropped to $325, and in 1925, a hand-operated windshield wiper was added.
Although the Model TT was in production during 1917-1918, they were exclusively manufactured for the war effort for World War I with no civilian trucks produced. The Model T was widely used by the US and British armies during World War I as a staff car, ambulance, van and cargo truck, even as an artillery tractor, for which application the truck was fitted with twinned rear tires.
The rear axle of the TT has a worm drive and crown wheel, unlike the Model T's crown wheel and pinion. The wheelbase of the Model TT is 125 inches, compared to 100 inches for the Model T. The Model TT was very durable for the time, but slow at 15mph when compared to other trucks.
This material is guaranteed to be 100% Authentic.
---
We Also Recommend