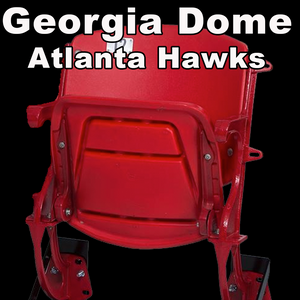 Georgia Dome (Atlanta Hawks)
Blanks are chunks of the red seats mixed with Atlanta Hawks colored resin.
Pen Blanks are a minimum of 3/4" x 3/4" 
Bottle Stopper and Ring blanks are 1-1/2" round
Full blocks are 6" x 5.25" and a minimum of 3/4" thick
Knife Scales are 1-3/8" x 5" x 3/8" minimum

All blanks will come with one COA per blank. COAs are 4" x 6" card stock with foil embossed COA seal. (Full Blocks come with 10 COAs.)
All blanks are cut as they are ordered.
---
The Georgia Dome was a domed stadium in Atlanta, GA, and was the home stadium for the NFL Atlanta Falcons, the NBA Atlanta Hawks, and the Georgia State University Panthers football team. It also hosted the two Super Bowls, the Peach Bowl, and 23 SEC Championship Games. The Georgia Dome was the only stadium in the US to host the Olympics, Super Bowl, and Final Four. 
Completed in 1992, it was one of the largest state-funded construction projects in Georgia history. At its debut in 1992, the Georgia Dome was the second-largest covered stadium in the world by capacity. Its successor, Mercedes-Benz Stadium, was opened on August 26, 2017. The Georgia Dome was demolished on November 20, 2017.
---
We Also Recommend