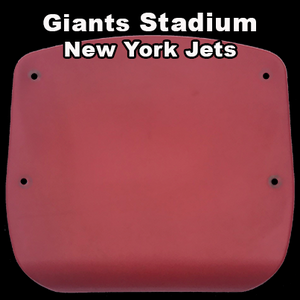 Giants Stadium (New York Jets)
Plastic Seat Pen Blanks!
Pen Blanks are 3/4" x 3/4"
Stopper Blanks are 1-1/2" round
All blanks will come with one COA per blank. COAs are 4" x 6" card stock with silver foil embossed COA seal.
All blanks are cut as they are ordered.
------------------------------------------------------------
Giants Stadium (sometimes referred to as Giants Stadium at the Meadowlands or The Swamp) was a stadium located in East Rutherford, New Jersey, in the Meadowlands Sports Complex. The venue had been open between 1976 and 2010, and it primarily hosted sporting events and concerts in its history. The maximum seating capacity was 80,242. The structure itself was 756 feet (230 m) long, 592 feet (180 m) wide and 144 feet (44 m) high from service level to the top of the seating bowl and 178 feet (54 m) high to the top of the south tower. The volume of the stadium was 64,500,000 cubic feet (1,830,000 m3), and 13,500 tons of structural steel were used in the building process while 29,200 tons of concrete were poured. It was owned and operated by the New Jersey Sports and Exposition Authority (NJSEA). The stadium's field was aligned northwest to southeast, with the press box along the southwest sideline.
---
We Also Recommend