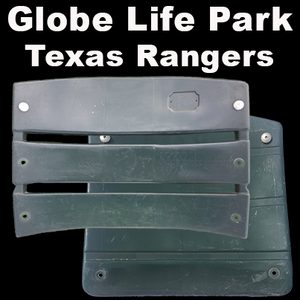 Globe Life Park in Arlington (Texas Rangers)
Version 2 Plastic seat pen blanks!
Blanks are 3/4" x 3/4"
All blanks will come with one COA per blank. COAs are 4" x 6" card stock with silver foil embossed COA seal.
All blanks are cut as they are ordered.
------------------------------------------------------------
Globe Life Park in Arlington is a stadium in Arlington, Texas, located between Dallas and Fort Worth. Originally built as a baseball park, it was home to the Texas Rangers of Major League Baseball and the Texas Rangers Baseball Hall of Fame from 1994 until 2019 when the team vacated the stadium for Globe Life Field. It was constructed as a replacement for nearby Arlington Stadium and opened in April 1994 as The Ballpark in Arlington.

In 2020, it was retrofitted and had become the home of the Dallas Renegades of the XFL. The only tenant is North Texas SC of USL League One.
---
We Also Recommend