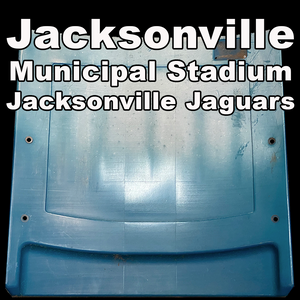 TIAA Bank Field (Jacksonville Jaguars)
Blanks are chunks of the BLUE seats mixed with Jacksonville Jaguars colored resin.
Pen Blanks are a minimum of 3/4" x 3/4" 
Bottle Stopper and Ring blanks are 1-1/2" round
Full blocks are 6" x 5.25" and a minimum of 3/4" thick
Knife Scales are 1-3/8" x 5" x 3/8" minimum

All blanks will come with one COA per blank. COAs are 4" x 6" card stock with foil embossed COA seal. (Full Blocks come with 10 COAs.)
All blanks are cut as they are ordered.
---
TIAA Bank Field is an American football stadium located in Jacksonville, Florida, that primarily serves as the home facility of the Jacksonville Jaguars of the National Football League (NFL). The stadium opened in 1995 as Jacksonville Municipal Stadium on the site of the old Gator Bowl Stadium (erected 1927), and included some portions of the older stadium. Located on the St. Johns River, it sits on 10 acres (4.0 ha) of land in downtown Jacksonville.

In addition to hosting the Jaguars, the stadium is also regularly used for college football, concerts, and other events. It is the regular site of the annual Florida–Georgia game, a college football rivalry game between the University of Florida and the University of Georgia. The stadium is also the home of the annual Gator Bowl, a post-season college bowl game. Additionally, the stadium hosted Super Bowl XXXIX in 2005 and is one of the venues used by the United States men's national soccer team.

From 1997 to 2006, the stadium was named Alltel Stadium after communications company Alltel purchased naming rights. The facility was renamed EverBank Field in 2010, following the approval of a five-year, naming rights deal with the financial services company EverBank. The agreement was extended in 2014 for an additional 10 years. The Jaguars announced in February 2018 the stadium would be renamed TIAA Bank Field for the 2018 NFL season after EverBank was acquired by New York-based TIAA.
---
We Also Recommend