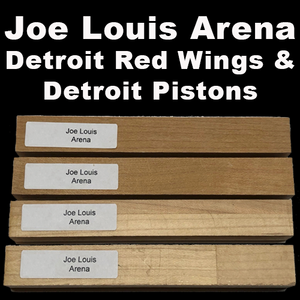 Joe Louis Arena (Detroit Red Wings & Detroit Pistons)
Wooden Locker Room Wall pen blanks!
Blanks are 23/32" x 23/32"
5" long blanks are $19 each
Extra COAs are $2 each
All blanks will come with one COA per blank. COAs are 4×6 card stock with foil embossed COA seal.
All blanks are cut as they are ordered.
--
Joe Louis Arena is a defunct multi-purpose arena in Downtown Detroit. Completed in 1979 at a cost of $57 million as a replacement for Olympia Stadium, it sits adjacent to Cobo Center on the bank of the Detroit River and was accessible by the Joe Louis Arena station on the Detroit People Mover. The venue is named after former heavyweight champion boxer Joe Louis, who grew up in Detroit.
It was the home of the Detroit Red Wings of the National Hockey League and the second oldest NHL venue after Madison Square Garden until the start of the 2017–18 NHL season. Joe Louis Arena is owned by the city of Detroit, and operated by Olympia Entertainment, a subsidiary of team owner Ilitch Holdings.
In April 2017, the Red Wings hosted their final game at Joe Louis Arena; the venue was succeeded by Little Caesars Arena. Closed on July 29, 2017, the venue is scheduled for demolition in 2019.
---
We Also Recommend