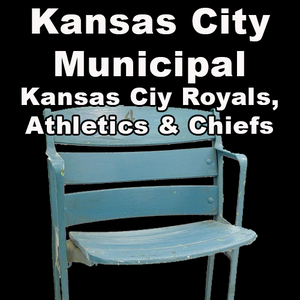 Kansas City Municipal (Kansas City Royals, Athletics, & Chiefs)
Blanks are original wooden seat slats from Kansas City Municipal Stadium.
Pen Blanks are a minimum of 3/4" x 3/4" 
Bottle Stopper and Ring blanks are 1-1/2" round
Full blocks are 6" x 5.25" and a minimum of 3/4" thick
Knife Scales are 1-3/8" x 5" x 3/8" minimum

All blanks will come with one COA per blank. COAs are 4" x 6" card stock with foil embossed COA seal. (Full Blocks come with 10 COAs.)
All blanks are cut as they are ordered.
---
Kansas City Municipal Stadium was an American baseball and football stadium in the central United States, located in Kansas City, Missouri. It was located at the corner of Brooklyn Avenue and E. 22nd Street.
Municipal Stadium hosted both the minor-league Kansas City Blues of the American Association and the Kansas City Monarchs of the Negro leagues from 1923 to 1955.
The stadium was almost completely rebuilt prior to the 1955 baseball season when the Kansas City Athletics moved to Kansas City from Philadelphia. The A's played from 1955 to 1967, the Kansas City Royals from 1969 to 1972, the Kansas City Chiefs (American Football League and National Football League) from 1963 to 1971 and the Kansas City Spurs (North American Soccer League) from 1968–1969.
The stadium hosted the Major League Baseball All-Star Game in 1960 (first game). In the final football game played there, Municipal Stadium was the site of the longest NFL game in history, a playoff game between the Chiefs and the Miami Dolphins on Christmas Day 1971; the Chiefs moved to the new Arrowhead Stadium in 1972. Jackie Robinson played at the stadium for the Kansas City Monarchs in 1945 until he was signed by the Brooklyn Dodgers.

Kansas city municipal
I really did like how the pens came my customer really loved the ease of the website was great.
---
We Also Recommend