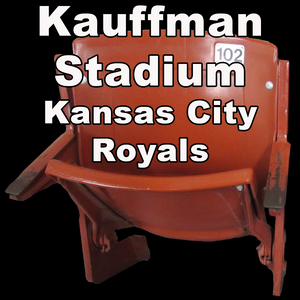 Kauffman Stadium (Kansas City Royals)
Blanks are chunks of the red seats mixed with Kansas City Royals colored resin.
Pen Blanks are a minimum of 3/4" x 3/4" 
Bottle Stopper and Ring blanks are 1-1/2" round
Full blocks are 6" x 5.25" and a minimum of 3/4" thick
Knife Scales are 1-3/8" x 5" x 3/8" minimum

All blanks will come with one COA per blank. COAs are 4" x 6" card stock with foil embossed COA seal. Blocks come with 10 COAs.
All blanks are cut as they are ordered.
---
Kauffman Stadium, often called "The K", is a baseball park located in Kansas City, Missouri. It is home to the Kansas City Royals of Major League Baseball (MLB). It is part of the Truman Sports Complex together with the adjacent Arrowhead Stadium, home of the Kansas City Chiefs of the National Football League (NFL). The ballpark is named for Ewing Kauffman, the founder and first owner of the Royals. It opened in 1973 as Royals Stadium and was named for Kauffman twenty years later on July 2, 1993. Since its last major renovation in 2009, the ballpark's listed seating capacity is 37,903.

Kauffman Stadium was built specifically for baseball during an era when building multisport "cookie-cutter" stadiums was commonplace. It is often held up along with Dodger Stadium (1962) in Los Angeles as one of the best examples of modernist stadium design. It is currently the only ballpark in the American League to be named after a person and is also one of ten stadiums in Major League Baseball that does not have a corporate-sponsored name. The stadium is the sixth-oldest stadium in the majors and has hosted the 1973 and the 2012 MLB All-Star Games, along with Royals home games during the 1980, 1985, 2014, and 2015 World Series. Between 2007 and 2009, Kauffman Stadium underwent a $250 million renovation, which included updates and upgrades in fan amenities, a new Royals hall of fame area, and other updates throughout the facility.
---
We Also Recommend