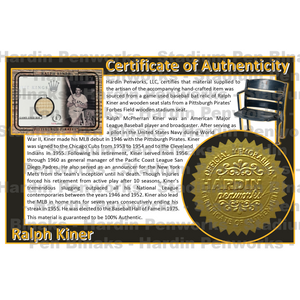 Kiner, Ralph #4 - Game Played Relic
These blanks are made with game used baseball bat relics from Ralph Kiner  of the Pittsburg Pirates and paired with wood from an original Forbes Field seat.
---
Ralph Kiner Relic Blanks:

Real MLB Game Played baseball bat relic. 
These blanks sold in sierra clones, PSI Baseball, and Jr Sets

Wood used is from an original Forbes Field Seat

All blanks will come with one COA per blank.
COAs are 4" x 6" card stock with foil embossed COA seal.
Custom tube sizes available (two-three week delivery)

---
Hardin Penworks, LLC, certifies that material supplied to the artisan of the accompanying hand-crafted item was sourced from a game used baseball bat relic of Ralph Kiner and wooden seat slats from a Pittsburgh Pirates' Forbes Field wooden stadium seat.
Ralph McPherran Kiner was an American Major League Baseball player and broadcaster. After serving as a pilot in the United States Navy during World War II, Kiner made his MLB debut in 1946 with the Pittsburgh Pirates. Kiner was signed to the Chicago Cubs from 1953 to 1954 and to the Cleveland Indians in 1955. Following his retirement, Kiner served from 1956 through 1960 as general manager of the Pacific Coast League San Diego Padres. He also served as an announcer for the New York Mets from the team's inception until his death. Though injuries forced his retirement from active play after 10 seasons, Kiner's tremendous slugging outpaced all his National League contemporaries between the years 1946 and 1952. Kiner also lead the MLB in home runs for seven years consecutively ending his streak in 1955. He was elected to the Baseball Hall of Fame in 1975.
This material is guaranteed to be 100% Authentic.
---
Feel free to message us for any questions. 
facebook.com/StadiumPenBlanks/ 
Michael@StadiumPenBlanks.com
---
We Also Recommend