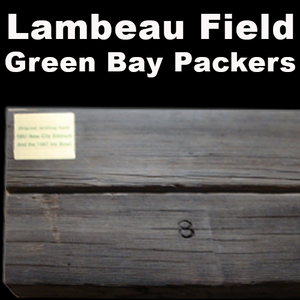 Lambeau Field (Green Bay Packers)
Wooden seat pen blanks!
Blanks are 3/4" x 3/4"
All blanks will come with one COA per blank. COAs are 4" x 6" card stock with silver foil embossed COA seal.
All blanks are cut as they are ordered.
------------------------------------------------------------
Lambeau Field is an outdoor athletic stadium in the north central United States, located in Green Bay, Wisconsin. The home field of the Green Bay Packers of the National Football League (NFL), it opened in 1957 as City Stadium, replacing the original City Stadium at East High School as the Packers' home field. Informally known as New City Stadium for its first eight seasons, it was renamed in August 1965 in memory of Packers founder, player, and long-time head coach, Curly Lambeau, who had died two months earlier.
The stadium's street address has been 1265 Lombardi Avenue since August 1968, when Highland Avenue was renamed in honor of former head coach Vince Lombardi. It sits on a block bounded by Lombardi Avenue (north); Oneida Street (east); Stadium Drive and Valley View Road (south); and Ridge Road (west). The playing field at the stadium has a conventional north-south alignment, at an elevation of 640 feet (195 m) above sea level.
The stadium completed its latest renovation in the summer of 2013 with the addition of 7,000 seats high in the south end zone. About 5,400 of the new seating is general, while the remaining 1,600 seats are club or terrace suite seating.[17] With a capacity of 81,441, Lambeau Field is the fifth-largest stadium in the NFL with standing room, but is fourth in normal capacity. It is now the largest venue in the state, edging out Camp Randall Stadium (80,321) at the University of Wisconsin in Madison.
Lambeau Field is the oldest continually operating NFL stadium.[19] In 2007, the Packers completed their 51st season at Lambeau, breaking the all-time NFL record set by the Chicago Bears at Wrigley Field (1921-70). (While Soldier Field in Chicago is older, it was not the home of the Bears until 1971.) Only the Boston Red Sox at Fenway Park and the Chicago Cubs at Wrigley have longer active home-field tenures in American professional sports.
Good wood, just be gentle
Had some challenges with this old wood but I got 4 pens with two 5" blanks, using team colors resin for the upper halves. They're heading back to their hometown now, ready for some die hard fans' Christmas stockings.
---
We Also Recommend