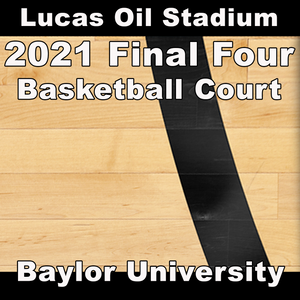 Lucas Oil Stadium (2021 Final Four) Baylor University
Wooden basketball court flooring pen blanks!
Pen Blanks are a close 3/4" x 3/4"
Ring blanks are 1-1/2" x 1-1/2"
All blanks will come with one COA per blank. COAs are 4" x 6" card stock with silver foil embossed COA seal.
All blanks are cut as they are ordered.
___________________________________________________________________________
Baylor won the national championship in the championship game of the 2021 Final Four by defeating Gonzaga 86-70.
The 2021 NCAA Division I men's basketball tournament was a single-elimination tournament of 68 teams to determine the National Collegiate Athletic Association (NCAA) Division I men's college basketball national champion for the 2020–21 season. The 82nd edition of the tournament began play on March 18, 2021 in sites around the state of Indiana, and concluded with the championship game at Lucas Oil Stadium in Indianapolis on April 5, with the Baylor Bears defeating the previously undefeated Gonzaga Bulldogs 86–70 to earn the team's first ever title.
Lucas Oil Stadium is a multi-purpose stadium in downtown Indianapolis, Indiana, United States. It replaced the RCA Dome as the home field of the National Football League (NFL)'s Indianapolis Colts and opened on August 16, 2008. The stadium was constructed to allow the removal of the RCA Dome and expansion of the Indiana Convention Center on its site. It is located on the south side of South Street, a block south of the former site of the RCA Dome. The stadium's naming rights belong to the Lucas Oil corporation. The venue also serves as the home for the Drum Corps International Championships.
---
We Also Recommend