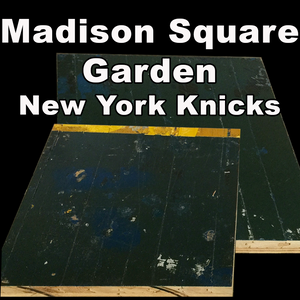 Madison Square Garden (New York Knicks)
Wooden basketball court flooring pen blanks!
Pen Blanks are a close 3/4" x 3/4"
All blanks will come with one COA per blank. COAs are 4" x 6" card stock with silver foil embossed COA seal.
All blanks are cut as they are ordered.
_____________________________________________________________________________________________
Madison Square Garden, colloquially known as The Garden or in initials as MSG, is a multi-purpose indoor arena in New York City. Located in Midtown Manhattan between 7th and 8th Avenues from 31st to 33rd Streets, it is situated atop Pennsylvania Station. It is the fourth venue to bear the name "Madison Square Garden"; the first two (1879 and 1890) were located on Madison Square, on East 26th Street and Madison Avenue, with the third Madison Square Garden (1925) further uptown at Eighth Avenue and 50th Street.

The Garden is used for professional ice hockey and basketball, as well as boxing, concerts, ice shows, circuses, professional wrestling and other forms of sports and entertainment. It is close to other midtown Manhattan landmarks, including the Empire State Building, Koreatown, and Macy's at Herald Square. It is home to the New York Rangers of the National Hockey League (NHL), the New York Knicks of the National Basketball Association (NBA), and was home to the New York Liberty (WNBA) from 1997 to 2017.

Originally called Madison Square Garden Center, the Garden opened on February 11, 1968, and is the oldest major sporting facility in the New York metropolitan area. It is the oldest arena in the National Hockey League and the National Basketball Association. In 2016, MSG was the second-busiest music arena in the world in terms of ticket sales, behind The O2 Arena in London. Including two major renovations, its total construction cost is approximately $1.1 billion, and it has been ranked as one of the 10 most expensive stadium venues ever built. It is part of the Pennsylvania Plaza office and retail complex, named for the railway station. Several other operating entities related to the Garden share its name.
---
We Also Recommend