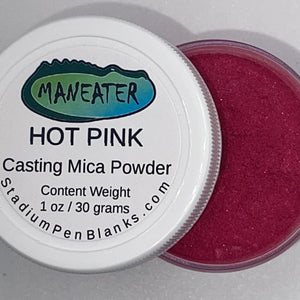 Maneater Casting Mica - Hot Pink
Maneater Casting Mica Powders
Make the most of your casting experience with a great selection of beautiful mica Micas. Our casting mica powders are shipped in wide mouth jars, each filled with 1 oz weight of our wonderful color collection.
Each mica jar sold separately.
We highly recommend pairing our mica powders with JB Royal Original and Thin epoxy resins. Our mica powder also mixes very well with Alumilite urethanes, other epoxies, and polyester casting resins too! A small amount will go long ways mixing color into your resins. Our micas blend and compliment very well with liquid pigments from Divine Turning Supply as well.
Maneater Casting Mica Powders are NOT for use with stabilizing resin
---
We Also Recommend