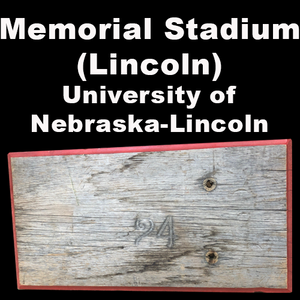 Memorial Stadium [Lincoln] (University of Nebraska-Lincoln)
Wooden seat pen blanks!
Blanks are 3/4" x 3/4"
All blanks will come with one COA per blank. COAs are 4" x 6" card stock with silver foil embossed COA seal.
All blanks are cut as they are ordered.
------------------------------------------------------------
Memorial Stadium, nicknamed The Sea of Red, is an American football stadium located on the campus of the University of Nebraska-Lincoln in Lincoln, Nebraska. The stadium primarily serves as the home venue for the Nebraska Cornhuskers football team, as well as a variety of other university and state activities.
Memorial Stadium was built in 1923 at a cost of $450,000 with a capacity of 31,080. The Cornhuskers had previously played home games at Nebraska Field from 1909 to 1922. The first game at the new stadium was a 24-0 Nebraska victory over Oklahoma on October 13, 1923.
A series of expansions has brought the stadium's current capacity to 85,458, but attendance numbers regularly exceed 90,000. Nebraska has sold out an NCAA-record 368 consecutive games at Memorial Stadium, a streak that dates back to 1962. When full, Memorial Stadium holds more people than all but two Nebraska cities (Omaha and Lincoln).
---
We Also Recommend