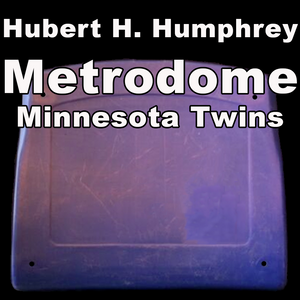 Metrodome (Minnesota Twins)
Blanks are chunks of the blue plastic seat backs mixed with Minnesota Twins colored resin.
Pen Blanks are a minimum of 3/4" x 3/4" 
Bottle Stopper and Ring blanks are 1-1/2" round
Full blocks are 6" x 5.25" and a minimum of 3/4" thick
Knife Scales are 1-3/8" x 5" x 3/8" minimum

All blanks will come with one COA per blank. COAs are 4" x 6" card stock with foil embossed COA seal. (Full Blocks come with 10 COAs.)
All blanks are cut as they are ordered.
---
The Hubert H. Humphrey Metrodome (commonly called the Metrodome) was a domed sports stadium located in downtown Minneapolis, Minnesota. It opened in 1982 as a replacement for Metropolitan Stadium, the former home of the National Football League's (NFL) Minnesota Vikings and Major League Baseball's (MLB) Minnesota Twins, and Memorial Stadium, the former home of the Minnesota Golden Gophers football team.

The Metrodome was the home of the Vikings from 1982 to 2013, the Twins from 1982 to 2009, the National Basketball Association's (NBA) Minnesota Timberwolves in their 1989–90 inaugural season, the Golden Gophers football team until 2008 and the occasional home of the Golden Gophers baseball team from 1985 to 2010 and their full-time home in 2012. It was also the home of the Minnesota Strikers of the North American Soccer League in 1984. On January 18, 2014, the Metrodome roof was deflated, signaling the beginning of demolition work. The Vikings played at the University of Minnesota's TCF Bank Stadium for the 2014 and 2015 NFL seasons, ahead of the planned opening of U.S. Bank Stadium in 2016.

The stadium had a fiberglass fabric roof that was self-supported by air pressure and was the third major sports facility to have this feature (the first two being the Pontiac Silverdome and the Carrier Dome). The Metrodome was similar in design to the former RCA Dome and to BC Place, though BC Place was reconfigured with a retractable roof in 2010. The Metrodome was reputedly the inspiration for the Tokyo Dome in Tokyo, Japan. The stadium was the only facility to have hosted a Super Bowl (1992), World Series (1987, 1991), MLB All-Star Game (1985) and NCAA Division I Basketball Final Four (1992, 2001).

The Metrodome had several nicknames such as "The Dome", "The Thunderdome", and "The Homer Dome." Preparation for the demolition of the Metrodome began the day after the facility hosted its final home game for the Minnesota Vikings on December 29, 2013, with actual demolition beginning on January 18, 2014. The Metrodome was torn down in sections while construction of U.S. Bank Stadium began.
---
We Also Recommend