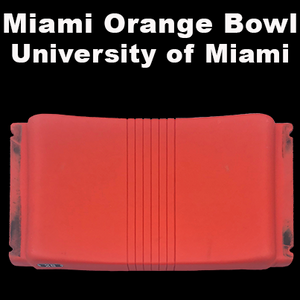 Miami Orange Bowl (University of Miami)
Blanks are chunks of the orange seats mixed with University of Miami colored resin.
Pen Blanks are a minimum of 3/4" x 3/4" 
Bottle Stopper and Ring blanks are 1-1/2" round
Full blocks are 6" x 5.25" and a minimum of 3/4" thick
Knife Scales are 1-3/8" x 5" x 3/8" minimum

All blanks will come with one COA per blank. COAs are 4" x 6" card stock with foil embossed COA seal. (Full Blocks come with 10 COAs.)
All blanks are cut as they are ordered.
---
Miami Orange Bowl is located in Miami, Fl.
Originally known as Burdine Stadium when opened in 1937, it was renamed in 1959 for the Orange Bowl college football bowl game which was played at the venue following every season from 1938 to 1996. The Miami Orange Bowl was an outdoor athletic stadium. It hosted the home the NCAA Miami Hurricanes football team 1937-2007, and the NFL's Miami Dolphins 1966-1986 until the opening of Joe Robbie Stadium.
This material is unconditionally guaranteed to be 100% Authentic.
---
We Also Recommend