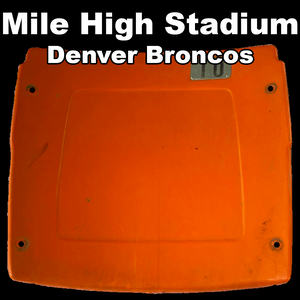 Mile High Stadium (Denver Broncos)
Blanks are chunks of the ORANGE seats mixed with Denver Broncos colored resin.
Pen Blanks are a minimum of 3/4" x 3/4" 
Bottle Stopper and Ring blanks are 1-1/2" round
Full blocks are 6" x 5.25" and a minimum of 3/4" thick
Knife Scales are 1-3/8" x 5" x 3/8" minimum

All blanks will come with one COA per blank. COAs are 4" x 6" card stock with foil embossed COA seal. (Full Blocks come with 10 COAs.)
All blanks are cut as they are ordered.
---
Mile High Stadium (originally Bears Stadium) was an outdoor multi-purpose stadium located in Denver, Colorado.
The stadium was built in 1948 to accommodate the Denver Bears baseball team which was a member of the Western League during its construction. Originally designed as a baseball venue, the stadium was expanded in later years to accommodate the addition of a professional football team to the city, the Denver Broncos, as well as to improve Denver's hopes of landing a Major League Baseball team. Although the stadium was originally built as a baseball-specific venue, it became more popular as a pro-football stadium despite hosting both sports for a majority of its life.
The Broncos called Mile High Stadium home from their beginning in the AFL in 1960 until 2000. The Bears, who changed their name to the Zephyrs in 1985, continued to play in the stadium until 1992 when the franchise was moved to New Orleans. The move was precipitated by the awarding of a Major League Baseball franchise to the city of Denver, and in 1993 the Colorado Rockies season opened in Mile High. The team played the 1993 and strike-shortened 1994 seasons in Mile High setting MLB attendance records while Coors Field was being constructed in downtown Denver.
In addition to the Broncos, Bears/Zephyrs, and Rockies, Mile High Stadium was home to several other professional teams during the course of its history. The Denver Gold of the United States Football League called Mile High home from 1983 to 1985, and the stadium played host to the inaugural USFL championship game on July 17, 1983. Two professional soccer teams also played at Mile High. The first was the Denver Dynamos of the North American Soccer League, who were founded in 1974 and played their first two seasons in Denver before moving to Bloomington, Minnesota and becoming the Minnesota Kicks. Denver was home to one of Major League Soccer's 10 charter franchises as the Colorado Rapids were formed and played in Mile High from 1996 until 2001, making them the last franchise to play in Mile High Stadium prior to its closure.
After the Rapids' 2001 season, Mile High Stadium was closed and in 2002 the stadium was demolished.
---
We Also Recommend