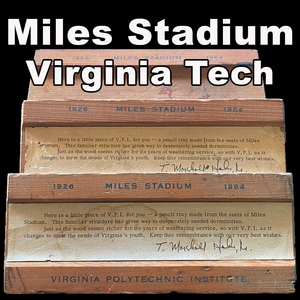 Miles Stadium (Virginia Tech University)
Blanks are from original wooden stadium seats of Miles Stadium.
Pen Blanks are a minimum of 3/4" x 3/4" 

All blanks will come with one COA per blank. COAs are 4" x 6" card stock with foil embossed COA seal. (Full Blocks come with 10 COAs.)
All blanks are cut as they are ordered.
_____________________________________________________________________________________________
Hardin Penworks, LLC, certifies that material supplied to the artisan of the accompanying hand-crafted item was sourced from the original wood seat of Miles Stadium that were made into souvenir pencil holder trays.
Miles Stadium was a college football stadium on the campus of Virginia Polytechnic Institute and State University, commonly known as Virginia Tech, in Blacksburg, VA. It was the home field of Virginia Tech's Hokies football team from 1926 to 1964, until the new Lane Stadium opened in 1965. Miles Stadium opened in 1926 where the stadium's inaugural game was a victory over Roanoke College on September 25, 1926. Four weeks later, the dedication game was a win over rival University of Virginia. The stadium's last game was a Virginia Tech victory over North Carolina State on November 7, 1964.
This material is guaranteed to be 100% Authentic.
---
We Also Recommend