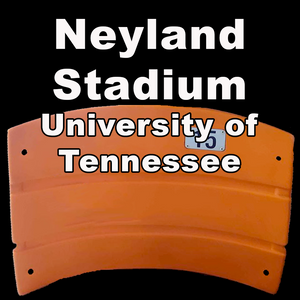 Neyland Stadium (University of Tennessee)
Blanks are chunks of the ORANGE plastic seat backs mixed with University of Tennessee colored resin.
Pen Blanks are a minimum of 3/4" x 3/4" 
Bottle Stopper and Ring blanks are 1-1/2" round
Full blocks are 6" x 5.25" and a minimum of 3/4" thick
Knife Scales are 1-3/8" x 5" x 3/8" minimum

All blanks will come with one COA per blank. COAs are 4" x 6" card stock with foil embossed COA seal. (Full Blocks come with 10 COAs.)
All blanks are cut as they are ordered.
---
Neyland Stadium (pronounced NEE-land) is a sports stadium in Knoxville, Tennessee, United States. It serves primarily as the home of the Tennessee Volunteers football team, but is also used to host large conventions and has been a site for several National Football League (NFL) exhibition games. The stadium's official capacity is 102,455. Constructed in 1921 as Shields–Watkins Field (which is now the name of the playing surface), the stadium has undergone 16 expansion projects, at one point reaching a capacity of 104,079 before being slightly reduced by alterations in the following decade. Neyland Stadium is the fourth largest stadium in the United States, the fifth largest stadium in the world, and the second largest stadium in the Southeastern Conference. The stadium is named for Robert Neyland, who served three stints as head football coach at the University of Tennessee between 1926 and 1952.
Love these blanks. Turn very smooth
Neyland seat blanks and the Univ of Tennessee Volunteers
UT had a great season in football this past year and with me making "seat blank pens" for the first time, I just couldn't keep up with demand. I know I stressed Michael at Stadium Pen Blanks, with all the calls and emails, but WOW...... he really came through. I just hope UT has another great season in 2023.
Awesome
Some acrylics can be hard to turn and cut into. Not this one, it turns super smooth.
---
We Also Recommend