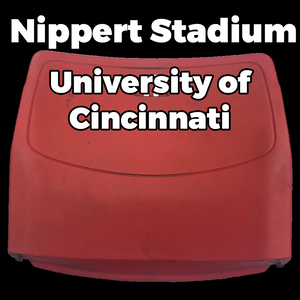 Nippert Stadium (University of Cincinnati)
Plastic Seat Pen Blanks!
Pen Blanks are 3/4" x 3/4"
Stopper Blanks are 1 1/2" round
All blanks will come with one COA per blank. COAs are 4" x 6" card stock with silver foil embossed COA seal.
All blanks are cut as they are ordered.
---
Nippert Stadium is an outdoor stadium in Cincinnati, OH, on the campus of the University of Cincinnati. Primarily used for American football, it is the home field of the Cincinnati Bearcats football team. The stadium also hosts soccer, serving as the home of FC Cincinnati of Major League Soccer. Nippert Stadium has a seating capacity of approximately 40,000 people following an expansion and renovation in 2014. It is the fourth-oldest playing site and fifth-oldest stadium in college football, respectively.
---
We Also Recommend