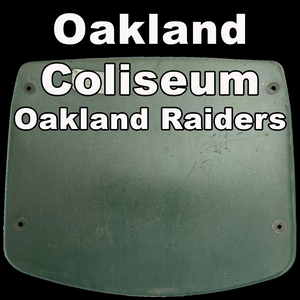 Oakland Coliseum (Oakland Raiders)
Blanks are chunks of the GREEN plastic seat backs mixed with Oakland Raiders colored resin.
Pen Blanks are a minimum of 3/4" x 3/4" 
Bottle Stopper and Ring blanks are 1-1/2" round
Full blocks are 6" x 5.25" and a minimum of 3/4" thick
Knife Scales are 1-3/8" x 5" x 3/8" minimum

All blanks will come with one COA per blank. COAs are 4" x 6" card stock with foil embossed COA seal. (Full Blocks come with 10 COAs.)
All blanks are cut as they are ordered.
---
The Oakland–Alameda County Coliseum, or Oakland Coliseum for short, is a multi-purpose stadium in Oakland, California, United States, which is home to the Oakland Athletics of Major League Baseball (MLB). The stadium opened in 1966 and was the last remaining stadium in the United States shared by professional football and baseball teams having done so from 1968 until 2019. From 1966 until 1981 and again from 1995 until 2019, the stadium was home of the Oakland Raiders of the National Football League. It was also the home of the Oakland Invaders of the United States Football League from 1983 to 1985. The Coliseum was also home to some games of the San Jose Earthquakes of Major League Soccer in 2008–2009 and hosted games of the 2009 CONCACAF Gold Cup. The Oakland–Alameda County Coliseum complex consists of the stadium and the neighboring Oakland Arena.

The Coliseum has 6,300 club seats, 2,700 of which are available for Athletics games, 143 luxury suites, 125 of which are available for Athletics games, and a variable seating capacity of 46,867 (or 55,945 without tarps) for baseball and 63,132 for soccer. It has a seating capacity of 56,057 for football as of 2019. In seating capacity, Oakland Coliseum is the eighth-largest MLB stadium.

While an NFL venue, the stadium was the second-smallest NFL stadium, larger only than Dignity Health Sports Park, the temporary home of the Los Angeles Chargers.

On April 3, 2017, Opening Day, the Athletics dedicated the Coliseum's playing surface as Rickey Henderson Field in honor of MLB Hall of Famer and former Athletic Rickey Henderson.
---
We Also Recommend