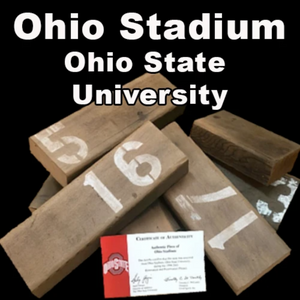 Ohio Stadium (Ohio State University)
ALL blanks are in stock  now!
Wooden seat pen blanks!
Blanks are 3/4" x 3/4"
Knife Scales 5"x1-1/2"x3/8"
All blanks will come with one COA per blank. COAs are 4" x 6" card stock with silver foil embossed COA seal.
All blanks are cut as they are ordered.
------------------------------------------------------------
Ohio Stadium, also known as the Horseshoe, the Shoe, and the House That Harley Built, is an American football stadium in Columbus, Ohio, on the campus of The Ohio State University. Its primary purpose is the home venue of the Ohio State Buckeyes football team; it also serves as the site for the university's Spring Commencement ceremonies each May.
From 1996 to 1998, Ohio Stadium was the home venue for the Columbus Crew of Major League Soccer prior to the opening of Columbus Crew Stadium in 1999. The stadium also was the home venue for the OSU track and field teams from 1923-2001. In addition to athletics, Ohio Stadium is also a concert venue, with U2, Taylor Swift, The Rolling Stones, Pink Floyd, and Metallica among the many acts to have played at the venue.
The stadium opened in 1922 as a replacement for Ohio Field and had a seating capacity of 66,210. In 1923, a cinder running track was added that was later upgraded to an all-weather track. Seating capacity gradually increased over the years and reached a total of 91,470 possible spectators in 1991. Beginning in 2000, the stadium was renovated and expanded in several phases, removing the track and adding additional seating, which raised the capacity to 101,568 by 2001 and to 102,329 in 2007. In 2014, additional seating was added in the end zone, raising the official capacity to 104,944. Another renovation to add more luxury suites began in 2017 and will eventually lead to a decrease of 2,600 seats. It is the largest stadium by capacity in the state of Ohio, and the third largest on-campus football stadium in the United States. Ohio Stadium was added to the National Register of Historic Places by the National Park Service on March 22, 1974.
Great for making a gift for a fan
I purchased the 5" blank for a Junior sized rollerball pen. The size was thick enough for the cap (12.5mm tube). The COA is very nice, and in a sturdy plastic sleeve for protection.
There's nothing special about the woods appearance, but being able to say it's from The Shoe makes it VERY special for an OSU fan. It wasn't stabilized, so it soaked up CA like a sponge when I glued up team color stripes in it, but no complaints about that. It's certainly stable now. I'm glad that I glued it up that way, not only for the design, but I probably wouldn't have thought to stabilize it otherwise.
---
We Also Recommend