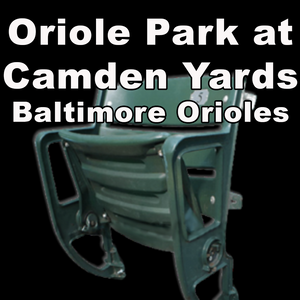 Oriole Park at Camden Yards (Baltimore Orioles)
Blanks are chunks of the GREEN seats mixed with Baltimore Orioles colored resin.
Pen Blanks are a minimum of 3/4" x 3/4" 
Bottle Stopper and Ring blanks are 1-1/2" round
Full blocks are 6" x 5.25" and a minimum of 3/4" thick
Knife Scales are 1-3/8" x 5" x 3/8" minimum

All blanks will come with one COA per blank. COAs are 4" x 6" card stock with foil embossed COA seal. Blocks come with 10 COAs.
All blanks are cut as they are ordered.
---
These blanks were sourced from the from the plastic seats of Oriole Park at Camden Yards a Major League Baseball MLB ballpark located in Baltimore, MD.

Home to the Baltimore Orioles, it is the first of the "retro" major league ballparks constructed during the 1990s and early 2000s. It was completed in 1992 to replace Memorial Stadium.

The park is situated in downtown Baltimore, a few blocks west of Inner Harbor in the Camden Yards Sports Complex. Historically, Oriole Park at Camden Yards is one of several venues that have carried the "Oriole Park" name for various Baltimore franchises over the years.

This material is guaranteed to be 100% Authentic.

---
We Also Recommend