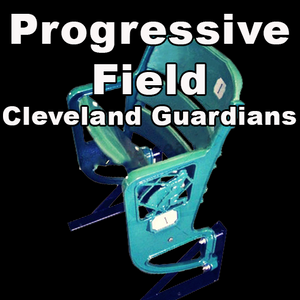 Progressive Field (Cleveland Guardians/Indians)
Blanks are chunks of the GREEN seats mixed with Cleveland Guardians/Indians colored resin.
Pen Blanks are a minimum of 3/4" x 3/4" 
Bottle Stopper and Ring blanks are 1-1/2" round
Full blocks are 6" x 5.25" and a minimum of 3/4" thick
Knife Scales are 1-3/8" x 5" x 3/8" minimum

All blanks will come with one COA per blank. COAs are 4" x 6" card stock with foil embossed COA seal. (Full Blocks come with 10 COAs.)
All blanks are cut as they are ordered.
---
Progressive Field is a Major League Baseball (MLB) baseball park located in the downtown area of Cleveland, Ohio, United States. It is the home field of the Cleveland Guardians and, together with Rocket Mortgage FieldHouse, is part of the Gateway Sports and Entertainment Complex.[9] It was ranked as MLB's best ballpark in a 2008 Sports Illustrated fan opinion poll.

The ballpark opened as Jacobs Field in 1994 to replace Cleveland Stadium, which the Guardians, then known as the Cleveland Indians, had shared with the Cleveland Browns of the National Football League. Since 2008, the facility has been named for Progressive Corporation, based in the Cleveland suburb of Mayfield, which purchased naming rights for $58 million over 16 years. The previous name came from team owners Richard and David Jacobs, who had acquired naming rights when the facility opened. The ballpark is still often referred to as "The Jake" based on its original name.
---
We Also Recommend