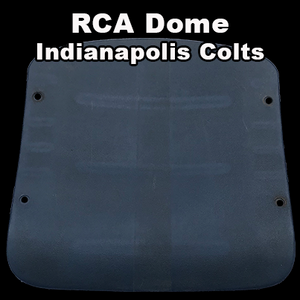 RCA Dome (Indianapolis Colts)
Plastic Seat Pen Blanks!
Pen Blanks are 3/4" x 3/4"
Stopper Blanks are 1-1/2" round
All blanks will come with one COA per blank. COAs are 4" x 6" card stock with silver foil embossed COA seal.
All blanks are cut as they are ordered.
------------------------------------------------------------
Hardin Penworks, LLC, certifies that material supplied to the artisan of the accompanying hand-crafted item was sourced from the plastic seat bottoms from the RCA Dome.
The stadium was originally named the Hoosier Dome until 1994 when RCA paid for the naming rights for 10 years, with two 5-year options. It was the home of the NFL Indianapolis Colts franchise for 24 seasons from 1984 to 2007. The dome was made up of 233 tons of Teflon-coated fiberglass held up by the air pressure inside the building. Lucas Oil Stadium replaced the RCA Dome in 2008 when the RCA Dome was demolished.
This material is guaranteed to be 100% Authentic.
RCA Dome (Indianapolis Colts)
---
We Also Recommend