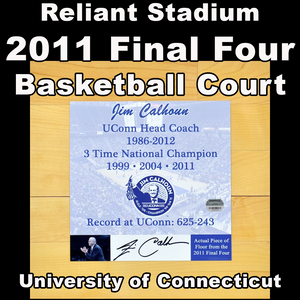 Reliant Stadium (2011 Final Four) University of Connecticut
Wooden basketball court flooring pen blanks!
Pen Blanks are a close 3/4" x 3/4"
Ring blanks are 1-1/2" x 1-1/2"
All blanks will come with one COA per blank. COAs are 4" x 6" card stock with silver foil embossed COA seal.
All blanks are cut as they are ordered.
_____________________________________________________________________________________________
Connecticut won its third national championship in the championship game of the 2011 Final Four by defeating Butler 53-41.
The 2011 NCAA Division I Men's Basketball Tournament was a single-elimination tournament involving 68 teams to determine the national champion of the 2010–11 NCAA Division I men's basketball season. The 73rd edition of the NCAA Tournament began on March 15, 2011, and concluded with the championship game on April 4 at Reliant Stadium in Houston, Texas. This tournament marked the introduction of the "First Four" round and an expansion of the field of participants from 65 teams to 68. The "South" and "Midwest" regional games were replaced by the monikers "Southeast" and "Southwest" for this tournament, due to the geographical location of New Orleans and San Antonio, respectively.

The Final Four featured no top seeds for the first time since 2006, with the highest remaining seed being West Region winner, #3 Connecticut. For the first time since 2000, a #8 seed advanced to the Final Four as Butler, the national runner-up from the year before, won the Southeast Region. For only the third time ever, a #11 seed advanced to the Final Four as Virginia Commonwealth, one of the "First Four" teams, won the Southwest Region. Those three teams were joined by East Region champion Kentucky, a #4 seed.
NRG Stadium (pronounced as N-R-G Stadium), formerly Reliant Stadium, is a multi-purpose stadium in Houston, Texas, United States. It was constructed at the cost of $352 million and has a seating capacity of 71,995. It was the first NFL facility to have a retractable roof.

The stadium is the home of the National Football League's Houston Texans, the Houston Livestock Show and Rodeo, the Texas Bowl, many of the United States men's national soccer team's matches, Mexico national football team friendlies where El Tri serves as the host, and other events. The stadium served as the host facility for Super Bowls XXXVIII (2004) and LI (2017), and WrestleMania XXV (2009).

NRG Stadium is part of a collection of venues (including the Astrodome), which are collectively called NRG Park. The entire complex is named for NRG Energy under a 32-year, US$300 million naming rights deal in 2000.
---
We Also Recommend