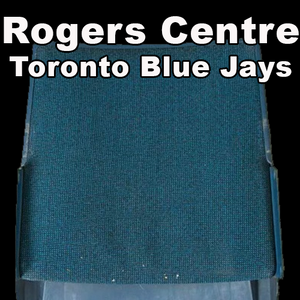 Rogers Centre (Toronto Blue Jays)
Blanks are chunks of the Teal seats mixed with Toronto Blue Jays colored resin.
Pen Blanks are a minimum of 3/4" x 3/4" 
Bottle Stopper and Ring blanks are 1-1/2" round
Full blocks are 6" x 5.25" and a minimum of 3/4" thick
Knife Scales are 1-3/8" x 5" x 3/8" minimum

All blanks will come with one COA per blank. COAs are 4" x 6" card stock with foil embossed COA seal. (Full Blocks come with 10 COAs.)
All blanks are cut as they are ordered.
---
Rogers Centre, originally SkyDome, is a multi-purpose retractable roof stadium in Toronto, Ontario, Canada. Opened in 1989, it is home to the MLB Toronto Blue Jays. The stadium was also home to the CFL Toronto Argonauts from 1989 to 2005 and the NBA Toronto Raptors from 1995 to 1999.
The stadium was renamed "Rogers Centre" following the 2005 purchase of the stadium by Rogers Communications, the corporation that also owns the Toronto Blue Jays. The venue is the first stadium to have a fully retractable motorized roof. It is also the last North American major-league stadium built to accommodate both football and baseball.
---
We Also Recommend