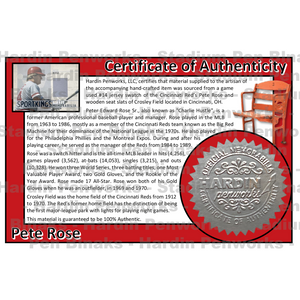 Rose, Pete #14 - Game Played Relic
These blanks are made with game used jersey relics from Pete Rose of the Cincinnati Reds  and paired with wood  from a Crosley Field stadium seat.
---
Pete Rose Relic Blanks:

Real MLB Game Played Jersey relic. 
These blanks sold in sierra clones, PSI Baseball, and Jr Sets

Wood used is from an original Crosley Field Seat
All blanks will come with one COA per blank.
COAs are 4" x 6" card stock with foil embossed COA seal.
Custom tube sizes available (two-three week delivery)

---
Hardin Penworks, LLC, certifies that material supplied to the artisan of the accompanying hand-crafted item was sourced from a game used #14 jersey swatch of the Cincinnati Red's Pete Rose and wooden seat slats of Crosley Field located in Cincinnati, OH.
Peter Edward Rose Sr., also known as "Charlie Hustle", is a former American professional baseball player and manager. Rose played in the MLB from 1963 to 1986, mostly as a member of the Cincinnati Reds team known as the Big Red Machine for their dominance of the National League in the 1970s. He also played for the Philadelphia Phillies and the Montreal Expos. During and after his playing career, he served as the manager of the Reds from 1984 to 1989.
Rose was a switch hitter and is the all-time MLB leader in hits (4,256), games played (3,562), at-bats (14,053), singles (3,215), and outs (10,328). He won three World Series, three batting titles, one Most Valuable Player Award, two Gold Gloves, and the Rookie of the Year Award. Rose made 17 All-Star. Rose won both of his Gold Gloves when he was an outfielder, in 1969 and 1970.
Crosley Field was the home field of the Cincinnati Reds from 1912 to 1970. The Red's former home field has the distinction of being the first major-league park with lights for playing night games.
This material is guaranteed to be 100% Authentic.
---
Feel free to message us for any questions. 
facebook.com/StadiumPenBlanks/ 
Michael@StadiumPenBlanks.com
---
We Also Recommend