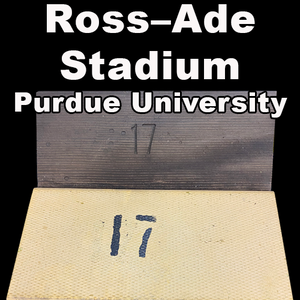 Ross–Ade Stadium (Purdue University)
Wooden seat pen blanks!
Blanks are very close to 3/4" x 3/4" square

All blanks will come with one COA per blank. COAs are 4" x 6" card stock with foil embossed COA seal.
All blanks are cut as they are ordered.
------------------------------------------------------------
Ross–Ade Stadium is a stadium in West Lafayette, Indiana, on the campus of Purdue University. It is the home field of Purdue Boilermakers football. The stadium was dedicated on November 22, 1924, and named in honor of Purdue alumni George Ade and David E. Ross. On December 6, 2019, it was announced that the new name for the playing surface is Rohrman Field at Ross-Ade Stadium.
The stadium was built in 1924 to replace Stuart Field, which had been hosting Purdue football since 1892. It is named in honor of Purdue alumni David E. Ross and George Ade, the principal benefactors. In 1922 Ade and Ross bought 65 acres (26 hectares) of land for the site of the new stadium. They also provided additional financial support for construction of the facility. Ross–Ade Stadium opened on November 22, 1924, with a seating capacity of 13,500--roughly corresponding to the lower portion of the current facility's west grandstand---and standing room for an additional 5,000 people. A series of additions and renovations pushed the seating capacity to almost 68,000 (70,000 with standing room). In 2001, Purdue University began a $70 million renovation, including widening both aisles and seats, which led to a reduced seating capacity of 62,500.
The largest crowd ever to see a game in Ross-Ade is 71,629 against Indiana on Nov 22, 1980.
In summer 2017, Ross–Ade Stadium installed permanent stadium lights.[6]
In March 2019 it was announced that a memorial for Superfan Tyler Trent who died on January 1st 2019 at the age of 20 from osteosarcoma a type of bone cancer would be placed at Student Section Gate entrance in his honor.
On December 6, 2019, it was announced that due to a $15 million gift, the new name of the facility is Rohrman Field at Ross-Ade Stadium.
---
We Also Recommend