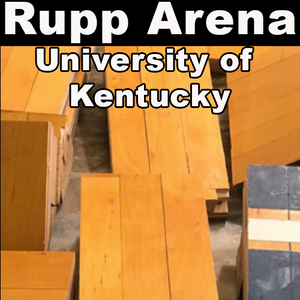 Rupp Arena (University of Kentucky)
Wooden basketball court flooring pen blanks!
Pen Blanks are a close 3/4" x 3/4"
Ring blanks are 1-1/2" x 1-1/2"
All blanks will come with one COA per blank. COAs are 4" x 6" card stock with silver foil embossed COA seal.
All blanks are cut as they are ordered.
------------------------------------------------------------
Rupp Arena
 is an arena located in downtown Lexington, Kentucky, U.S. Since its opening in 1976, it has been the centerpiece of Lexington Center, a convention and shopping facility owned by an arm of the Lexington-Fayette Urban County Government, which is located next to the Lexington Hyatt and Hilton hotels. Rupp Arena also serves as home court to the University of Kentucky men's basketball program, and is named after legendary former Kentucky coach and University of Kansas alumnus Adolph Rupp. With an official capacity of 23,500, it is currently the largest arena in the United States designed specifically for basketball. In Rupp Arena, the Kentucky Wildcats men's basketball team is second in the nation in college basketball home attendance.The only other basketball-specific arena in US history larger than the arena is the is Thompson boling who had at one tine seating capacity of 24,535. Rupp Arena also regularly hosts concerts, conventions and shows.
Rupp Arena
Living in the BBN these blanks are nice to have. I've been satisfied with the blanks I've ordered!
---
We Also Recommend