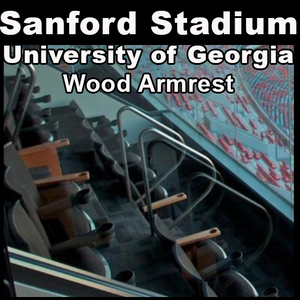 Sanford Stadium (University of Georgia) [WOOD]
Wood blanks suite box seat arm rests of Sanford Stadium, home of the University of Georgia Bulldogs. 
Pen Blanks are a minimum of 3/4" x 3/4" 
Knife Scales are 1-3/8" x 5" x 3/8" minimum

All blanks will come with one COA per blank. COAs are 4" x 6" card stock with foil embossed COA seal. 
All blanks are cut as they are ordered.
---
Hardin Penworks, LLC, certifies that material supplied to the artisan of the accompanying hand-crafted item was sourced from the from the premium seats in Sanford Stadium's Champions Club, SkyClub and SkySuites.
Sanford Stadium is the on-campus home field for football at the University of Georgia in Athens, GA,. The stadium is the tenth-largest stadium in the NCAA. Games played there are said to be played "between the hedges" due to the field being surrounded by privet hedges, which have been a part of the design of the stadium since it opened in 1929. The current hedges were planted in 1996 after the originals were taken out to accommodate the soccer for the 1996 Summer Olympics.
The stadium is named for Dr. Steadman Vincent Sanford, an early major force behind UGA athletics
This material is guaranteed to be 100% Authentic.

---
We Also Recommend