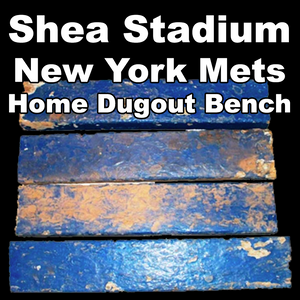 Shea Stadium (New York Mets) [Dugout Bench]
Wood Bench Pen Blanks
Pen Blanks are 3/4" x 3/4"
All blanks will come with one COA per blank. COAs are 4" x 6" card stock with silver foil embossed COA seal.
All blanks are cut as they are ordered.
------------------------------------------------------------
Hardin Penworks, LLC, certifies that material supplied to the artisan of the accompanying hand-crafted item was sourced from the home dugout benches of Shea Stadium. Formally known as William A. Shea Municipal Stadium, it was a stadium in Flushing Meadows-Corona Park, Queens, New York City, NY. Built as a multi-purpose stadium, it was the home park of MLB New York Mets from 1964 to 2008, and the NFL New York Jets football team from 1964 to 1983. The venue was named in honor of William A. Shea, the man who brought National League baseball back to New York after the Dodgers and Giants left for California in 1957. Shea always used a natural grass surface, in contrast to other multi-purpose stadiums of the same era. Shea Stadium's final game was September 28, 2008.
This material is guaranteed to be 100% Authentic.
---
We Also Recommend