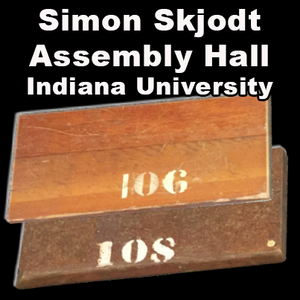 Simon Skjodt Assembly Hall (Indiana University) [WOOD]
Plastic Seat Pen Blanks!
Pen Blanks are 3/4" x 3/4"
Stopper Blanks are 1 1/2" round
All blanks will come with one COA per blank. COAs are 4" x 6" card stock with silver foil embossed COA seal.
All blanks are cut as they are ordered.
------------------------------------------------------------
Hardin Penworks, LLC, certifies that material supplied to the artisan of the accompanying hand-crafted item was sourced from the plastic seats of Simon Skjodt Assembly Hall. The hall is a 17,222-seat arena on the campus of Indiana University in Bloomington, IN.
It is the home of the Indiana Hoosiers men's basketball and women's basketball teams. It opened in 1971, replacing the current Gladstein Fieldhouse. The court is named after Branch McCracken, the men's basketball coach who led the school to its first two NCAA National Championships in 1940 and 1953. Basketball sportscaster Gus Johnson called the Assembly Hall "the Carnegie Hall of basketball."
This material is guaranteed to be 100% Authentic.
---
We Also Recommend