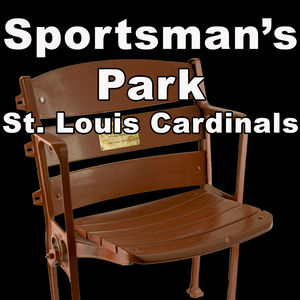 Sportsman's Park (St. Louis Cardinals)
Wooden seat pen blanks!
Pen Blanks are a minimum of 3/4" x 3/4" 
All blanks will come with one COA per blank. COAs are 4" x 6" card stock with foil embossed COA seal.
All blanks are cut as they are ordered.
_____________________________________________________________________________________________
Sportsman's Park was the name of several former Major League Baseball ballpark structures in St. Louis, Missouri. All but one of these were located on the same piece of land, at the northwest corner of Grand Boulevard and Dodier Street, on the north side of the city.
From 1920–1953, Sportsman's Park was the home field of both the St. Louis Browns of the American League, and the St. Louis Cardinals of the National League, after which the Browns departed to become the modern-day Baltimore Orioles. The physical street address was 2911 North Grand Boulevard. This ballpark (by then known as Busch Stadium, but still commonly called Sportsman's Park) was also the home of the St. Louis Cardinals of the National Football League from 1960 through 1965, after the team's relocation from Chicago and before Busch Memorial Stadium opened its doors in 1966. In 1923, the stadium hosted St. Louis's first NFL team, the St. Louis All-Stars.
---
We Also Recommend