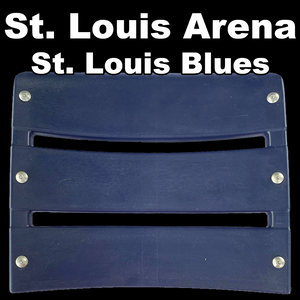 St. Louis Arena (St. Louis Blues)
Blanks are chunks of the BLUE plastic seat backs mixed with St. Louis Blues colored resin.
Pen Blanks are a minimum of 3/4" x 3/4" 
Bottle Stopper and Ring blanks are 1-1/2" round
Full blocks are 6" x 5.25" and a minimum of 3/4" thick
Knife Scales are 1-3/8" x 5" x 3/8" minimum

All blanks will come with one COA per blank. COAs are 4" x 6" card stock with foil embossed COA seal. (Full Blocks come with 10 COAs.)
All blanks are cut as they are ordered.
---
The St. Louis Blues are a professional ice hockey team based in St. Louis. They compete in the National Hockey League (NHL) as a member of the Central Division of the Western Conference. The franchise was founded in 1967 as one of the six teams from the 1967 NHL expansion and is named after the W. C. Handy song "Saint Louis Blues". The Blues play their home games at the 19,150-seat Enterprise Center in downtown St. Louis, which has been their arena since moving from St. Louis Arena in 1994.

The Blues qualified for the playoffs in all but nine of their 52 seasons, appeared in the Stanley Cup Finals four times, and won the Stanley Cup in 2019. Their 42 playoff appearances are the most for any NHL team outside of the Original Six, although the franchise struggled in the postseason throughout much of their history. While they made the Stanley Cup Finals in each of their first three seasons, they were swept each time. With the Blues' victory in their fourth Stanley Cup Finals, 49 years after their last appearance and in their 52nd year of existence, they became the final active team from the 1967 expansion to win their first Stanley Cup.

The Blues have a rivalry with the Chicago Blackhawks, with both teams having played in the same division since 1970. The Springfield Thunderbirds of the American Hockey League (AHL) are the minor league affiliate of the Blues.
---
We Also Recommend