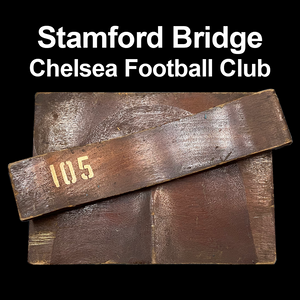 Stamford Bridge (Chelsea Football Club)
Wooden seat pen blanks!
Pen Blanks are 3/4" x 3/4"
Knife Scales are 5" x 1-1/2" x 3/8"
Bottle Stoppers are 2-1/2" x 1-1/2"
All blanks will come with one COA per blank. COAs are 4" x 6" card stock with silver foil embossed COA seal.
All blanks are cut as they are ordered.
------------------------------------------------------------
Hardin Penworks, LLC, certifies that material supplied to the artisan of the accompanying hand-crafted item was sourced from the original wooden seating of Stamford Bridge.
Commonly referred to as The Bridge, it is a football stadium in Fulham, adjacent to the borough of Chelsea in South West London. It is the home of Chelsea Football Club, which competes in the Premier League.
Opened in 1877, the stadium was used by the London Athletic Club until 1905, when new owner Gus Mears founded Chelsea Football Club to occupy the ground; Chelsea have played their home games there ever since. It has undergone major changes over the years, most recently in the 1990s when it was renovated into a modern, all-seater stadium.
This material is guaranteed to be 100% Authentic.
---
We Also Recommend