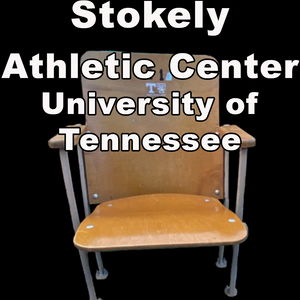 Stokely Athletic Center (University of Tennessee)
Pen Blanks are a minimum of 3/4" x 3/4" 
All blanks will come with one COA per blank. COAs are 4" x 6" card stock with foil embossed COA seal. 
All blanks are cut as they are ordered.
---
These wooden seats blanks are from Stokely Athletic Center in Knoxville, TN.

The Stokely Athletic Center was an on-campus arena located at the University of Tennessee. It was home to the men's and women's basketball teams from 1958 until the opening of Thompson-Boling Arena in 1987. In 2008, the Lady Vol volleyball team also left Stokely for Thompson–Boling Arena. Stokely Athletic Center is located about a block from both the new arena and Neyland Stadium. It replaced Alumni Gymnasium, a 3,200-seat arena-auditorium built in 1931.

Originally built in 1958 as the University of Tennessee Armory-Fieldhouse, it was expanded to double the seating capacity to 12k, and renamed Stokely Athletic Center after William B. Stokely's renovation donation.

This wood is guaranteed to be 100% Authentic.

Stokley Athletic Center
Love these pen blanks. Getting ready to place another order.
---
We Also Recommend